(May 7, 2018 / Palestinian Media Watch) In keeping with Palestinian Authority policy to honor terrorists and glorify terrorist attacks, Palestinian leader Mahmoud Abbas himself met with Um Nasser Abu Hmeid, a Palestinian woman who is famous and admired in the P.A. for being the mother of four terrorist prisoners serving multiple life sentences.
In total, they are serving 18 life sentences for murdering eight people and carrying out numerous terror attacks. The P.A. refers to her fifth son—a terrorist who was killed by Israel—as a "martyr."
Abbas welcomed Abu Hmeid in his personal headquarters. She is also known in the PA as "Khansa of Palestine," a name that refers to the woman Al-Khansa from early Islam, who sent her four sons to battle and rejoiced when they all died as martyrs.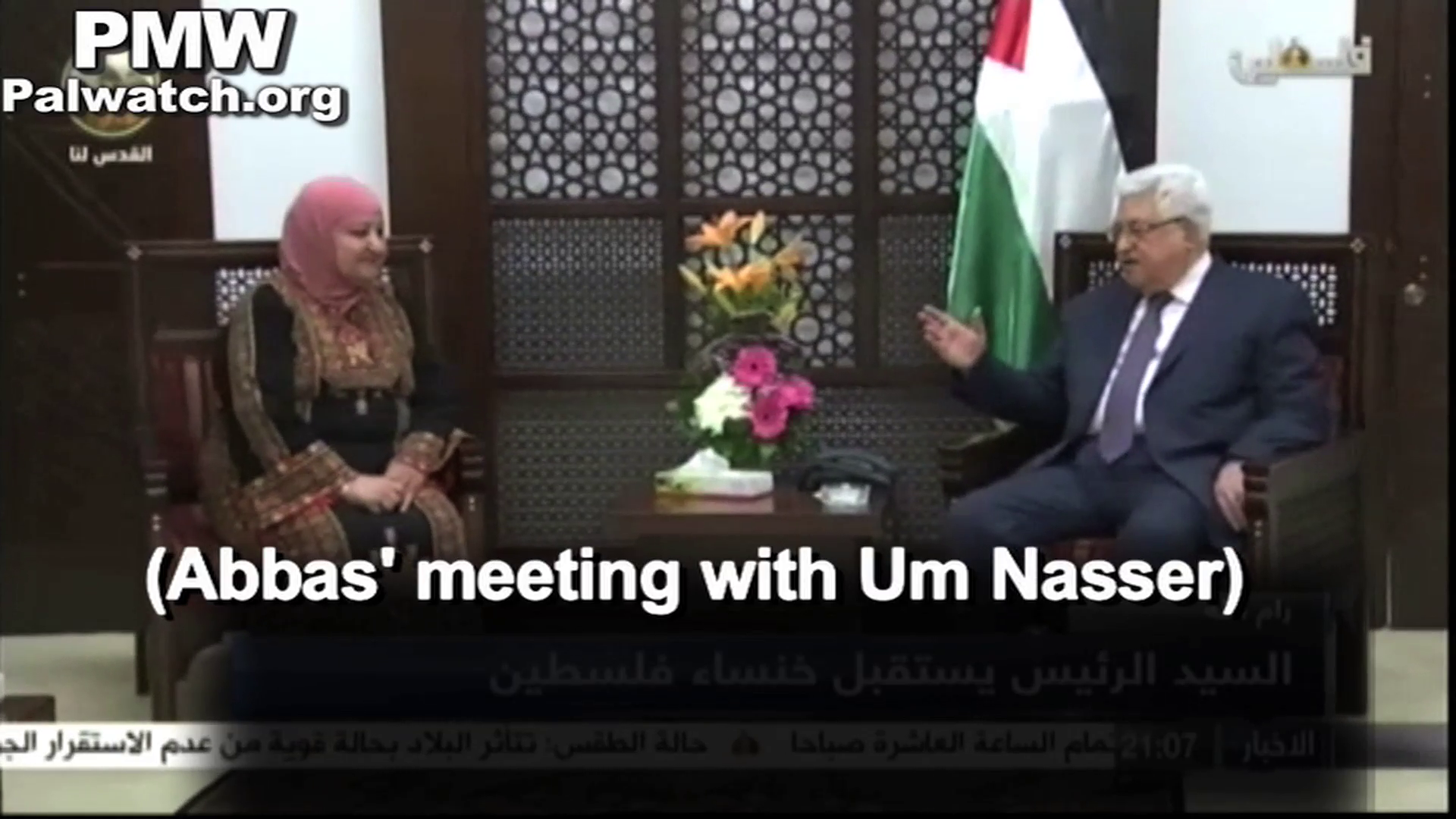 Official P.A. TV newsreader: "President Abbas welcomed in the [P.A.] presidential headquarters in Ramallah Um Nasser [Abu] Hmeid 'Khansa of Palestine,' mother of five (sic) prisoners." [Official P.A. TV News, April 25, 2018]
Palestinian Media Watch exposed that the P.A. chose Abu Hmeid to launch the P.A.'s statehood campaign with the United Nations in 2011, and also honored her in 2010 and again in 2015. Recently, the official P.A. daily singled her out in a report on an event for mothers of "martyrs."
In its report, official P.A. TV News also included a statement by Fatah Central Committee member Abbas Zaki who, while standing with Abu Hmeid, praised her and her terrorist sons:
"Um Nasser is a precious, mighty, and beloved woman. We identify with her and consider her children entrusted to us because they sacrificed their freedom for the Palestinian cause and people."
After the meeting, Um Nasser stated that Abbas had "emphasized that no peace agreement will be signed without all of the prisoners being released."
She added that "the prisoners' cause is the heart of the conflict, and Israel is attempting to fight us through our children." [Official P.A. daily Al-Hayat Al-Jadida, April 26, 2018]
The full PMW report can be viewed here.