(December 13, 2018 / Palestinian Media Watch) As the anniversary of Abbas's Fatah approaches—celebrated on the day of its first attempted terror attack against Israel in 1965—the movement is emphasizing its values to the Palestinian public.
One of those values is Fatah's devotion to "the armed struggle" against Israel and Fatah's adoration for the rifle.
In an informative post on the terrorist attack three days ago in which seven Israelis were wounded when terrorists shot at them, Fatah chose to adorn the post with the photo above showing masked Fatah members in military uniforms with assault rifles and yellow Fatah headbands.
Fatah overtly stressed its adherence to "the armed struggle" in another post showing a photo of a procession of masked men wearing military uniforms and carrying torches and yellow Fatah flags:
"Fatah is the torch of the armed struggle."
In another post, Fatah directly stated that it won't abandon "the rifle":
"The 54th anniversary of the Intilaqa ("the Launch" of Fatah)
The revolution continues, and we will not drop the rifle."
This announcement echoes a recent statement by Fatah Central Committee member Abbas Zaki that was exposed by Palestinian Media Watch, in which Zaki declared that "the rifle will never fall."
On P.A. TV, Zaki quoted Arafat's famous U.N. speech in 1974, when Arafat said he was "bearing an olive branch and a revolutionary's gun," and asked the U.N. "not to let the olive branch fall." Zaki explained that Arafat had focused specifically on the image of the olive branch not falling, because "the rifle will never fall, even today." [Official P.A. TV, Palestine This Morning, Nov. 11, 2018]    
Among Fatah's messages to Palestinians is also the profiling of terrorist murderers as heroes. Two recent examples are the following, in which both murderers are shown with rifles: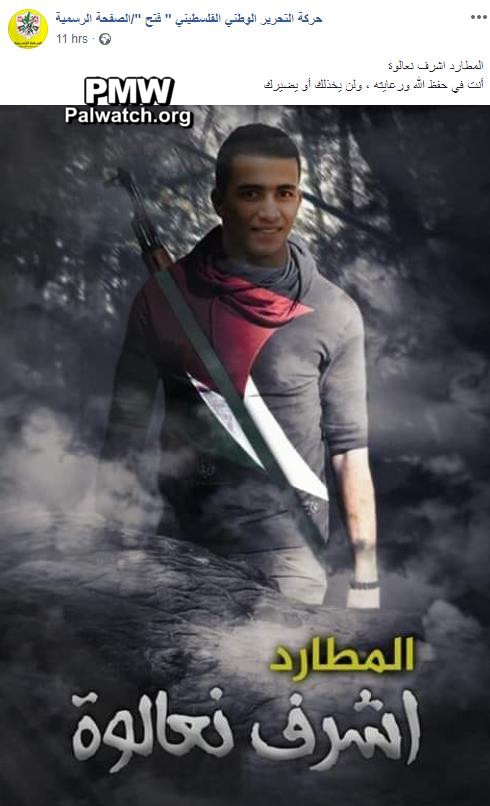 The image shows terrorist Ashraf Na'alwa, who murdered 2 Israelis on Oct. 7, 2018, and has not yet been apprehended. The image has been photoshopped so that Na'alwa is seen with a rifle slung over his shoulder and a Palestinian flag design on his chest.
Text on image: "The wanted one Ashraf Na'alwa."
Posted text: "The wanted one Ashraf Na'alwa Allah is protecting you and taking care of you, He will not abandon you or harm you."
[Official Fatah Facebook page, Nov. 28, 2018]