(April 23, 2020 / JNS) Palestinian Authority TV aired a clip that reinforces the P.A.'s message that Islamic holy places and the struggle for "Palestine" are worth the sacrifice of their children.
According to a new report by Palestinian Media Watch (PMW) published on Wednesday, for decades, Palestinian leadership has promoted to its people the ideal of dying as "martyrs" for their battle against Israel. In the new filler, the P.A. teaches Palestinians that the Al-Aqsa Mosque is "more precious than my children and more precious than my family."
The video, which ran on April 10 states: "Al-Aqsa—the lemon blossom, the olives. I will redeem you with my soul and my eyes."
It continues, "Al-Aqsa is more precious than my children and more precious than my family—Al-Aqsa is my life, Al-Aqsa is my life … the whole world is with Palestine, and wherever you need us, we are with you."
Among instances of the P.A. inciting violence against Israelis, PMW also mentioned a song broadcast on official P.A. radio encouraging the sacrifice of children for a future state.
The lyrics state: "I love you Palestine from the bottom of my heart, I love you, my land. You are in [my] eyes and soul, And I will redeem you with my children."
The song, "I Love You, Palestine, From the Bottom of My Heart" by Palestinian singer Ammar Hassan, was broadcast by the official P.A. radio station the Voice of Palestine on the following dates: Jan. 2, 5, 9, 10, 12, 22, 23; Feb. 12, 20, 22; March 2, 20; April 10, 14; May 1, 14, 17; June 4, 19; Aug. 15; Dec. 14, 28 2019; Jan. 8, 15, 17, 18, 29; Feb. 5, 12, 2020.
In addition, PMW has documented other songs with similar messaging, and the Palestinian Fatah movement frequently posts photos of children holding weapons, as in this photo of two girls carrying assault rifles leading a procession of armed, uniformed men: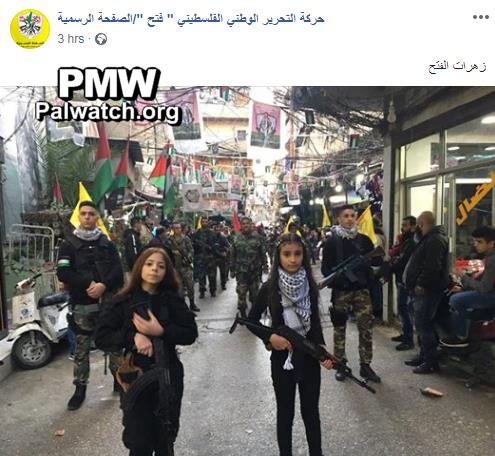 Support Jewish Journalism
with 2020 Vision
One of the most intriguing stories of the sudden Coronavirus crisis is the role of the internet. With individuals forced into home quarantine, most are turning further online for information, education and social interaction.
JNS's influence and readership are growing exponentially, and our positioning sets us apart. Most Jewish media are advocating increasingly biased progressive political and social agendas. JNS is providing more and more readers with a welcome alternative and an ideological home.
During this crisis, JNS continues working overtime. We are being relied upon to tell the story of this crisis as it affects Israel and the global Jewish community, and explain the extraordinary political developments taking place in parallel.
Our ability to thrive in 2020 and beyond depends on the generosity of committed readers and supporters. Monthly donations in particular go a long way in helping us sustain our operations. We greatly appreciate any contributions you can make during these challenging times. We thank you for your ongoing support and wish you blessings for good health and peace of mind.