(November 12, 2020 / JNS) The Fatah movement headed by Mahmoud Abbas is promising to rebuild the home of Palestinian terrorist murderer Khalil Dweikat, who confessed to stabbing to death Rabbi Shai Ohayon—a 39-year-old father of four—in August in Petach Tikvah, reported Palestinian Media Watch on Wednesday.
Israel demolished his home on Nov. 2 in an effort to deter future attacks.
A post on Fatah's official Facebook page on Nov. 2 stated, "Fatah Movement Deputy Chairman Mahmoud Al-Aloul: 'There is no home that the occupation has destroyed and we have not rebuilt. We will rebuild the home of prisoner Khalil Dweikat in the village of Rujeib.' "
It is P.A. policy to reward and honor terrorists and their families, including rebuilding their homes.
PMW has documented that the P.A. has rebuilt the house of terrorist Omar Abu Laila, who on March 17 murdered 19-year-old IDF Sgt. Gal Kaidan and 47-year-old Rabbi Achiad Ettinger, a father of 12, in a terror attack at the Ariel Junction. Abu Laila was killed two days later by Israeli soldiers while resisting arrest.
He was said to have killed others as well on the orders of Abbas himself.
Pictured below is the old home of Omar Abu Laila being demolished (Credit: Poica-Eye on Palestine, independent Palestinian organization, April 24, 2019), along with the new home of the Abu Laila family.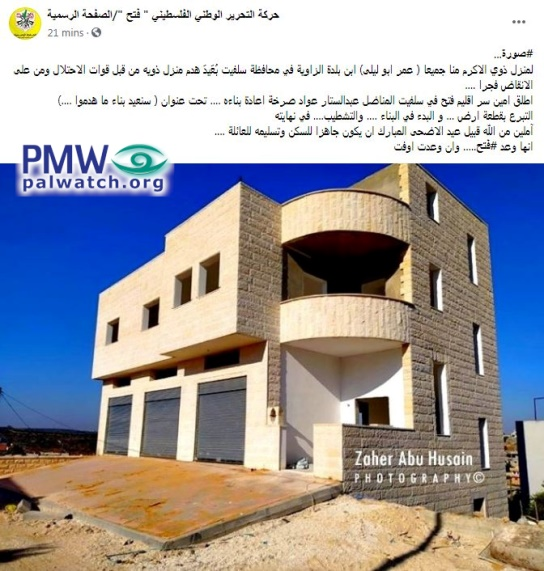 Support Jewish Journalism
with 2020 Vision
One of the most intriguing stories of the sudden Coronavirus crisis is the role of the internet. With individuals forced into home quarantine, most are turning further online for information, education and social interaction.
JNS's influence and readership are growing exponentially, and our positioning sets us apart. Most Jewish media are advocating increasingly biased progressive political and social agendas. JNS is providing more and more readers with a welcome alternative and an ideological home.
During this crisis, JNS continues working overtime. We are being relied upon to tell the story of this crisis as it affects Israel and the global Jewish community, and explain the extraordinary political developments taking place in parallel.
Our ability to thrive in 2020 and beyond depends on the generosity of committed readers and supporters. Monthly donations in particular go a long way in helping us sustain our operations. We greatly appreciate any contributions you can make during these challenging times. We thank you for your ongoing support and wish you blessings for good health and peace of mind.