(May 27, 2018 / PMW) The Palestinian Authority and Abbas's Fatah have come up with yet a new way to honor terrorist prisoners: A huge billboard with numerous photos of so-called "fighting prisoners" was inaugurated in the town of Husan, west of Bethlehem.
P.A. TV News said the billboard immortalizes 17 prisoners who are serving long sentences. Among the prisoners on the billboard is terrorist Izz Al-Din Hamamrah, who is serving 10 life sentences for recruiting a suicide bomber who murdered eight people.
The billboard was inaugurated at an event in which the head of the PLO Commission of Prisoners' Affairs Issa Karake participated, as well as the prisoners' parents, local school students and a scouts group. Karake stated that the billboard is a sign of the "support for the prisoners":

Karake: "These [activities] are a kind of support, stand, and aid for the fighting prisoners who fought and sacrificed for Palestine. We say that the prisoners' cause is a central and main cause, and it is the criterion for any just peace in the region."
[Official P.A. TV News, April 24, 2018]
Under Palestinian Authority law, the P.A. pays every terrorist prisoner a monthly salary. Since 2000, the P.A. has raised the monthly salaries a number of times.
Currently, every prisoner's salary starts at 1,400 shekels/month and increases every few years, reaching as high as NIS 12,000/month after 30 years. Until now, terrorist Izz Al-Din Hamamrah has received NIS

540,600

($

155,909

) in reward for his crimes from the P.A. His current salary is NIS 6,000/month ($1,730).
The following chart shows the monthly salaries in effect since January 2011.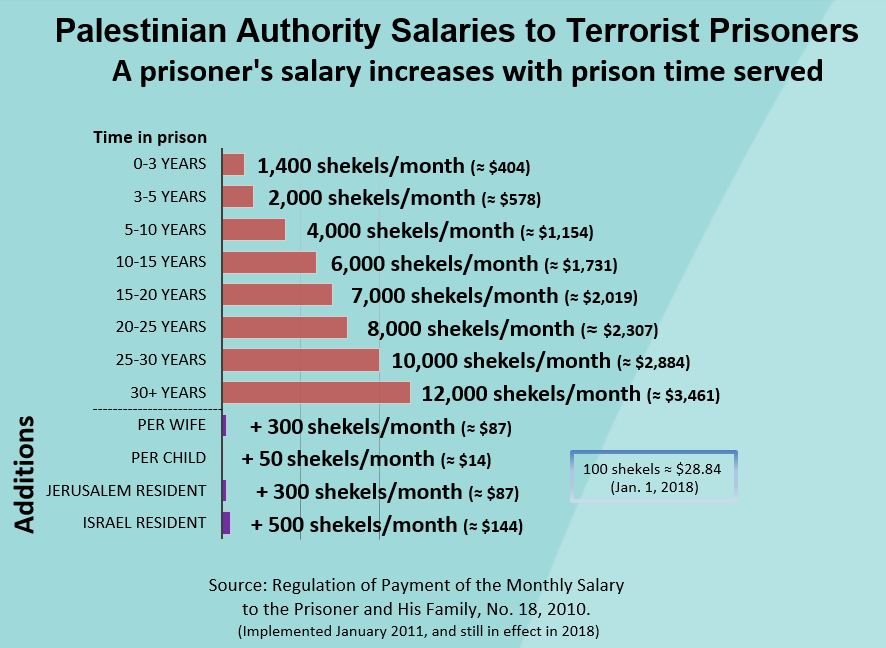 Full report can be read here.