(June 6, 2018 / PMW) Seizing an opportunity to glorify terrorists, Fatah's student movement Shabiba at Birzeit University near Ramallah put photos of terrorists on greetings it distributed wishing students good luck on their exams.
The cards featured pictures of the following heads of terror organizations:
Founder of the Hamas terror organization Ahmed Yassin
Former PLO and P.A. chairman and founder of Fatah Yasser Arafat
Secretary-General of the Popular Front for the Liberation of Palestine Abu Ali Mustafa
Founder of the Islamic Jihad terror organization Fathi Shaqaqi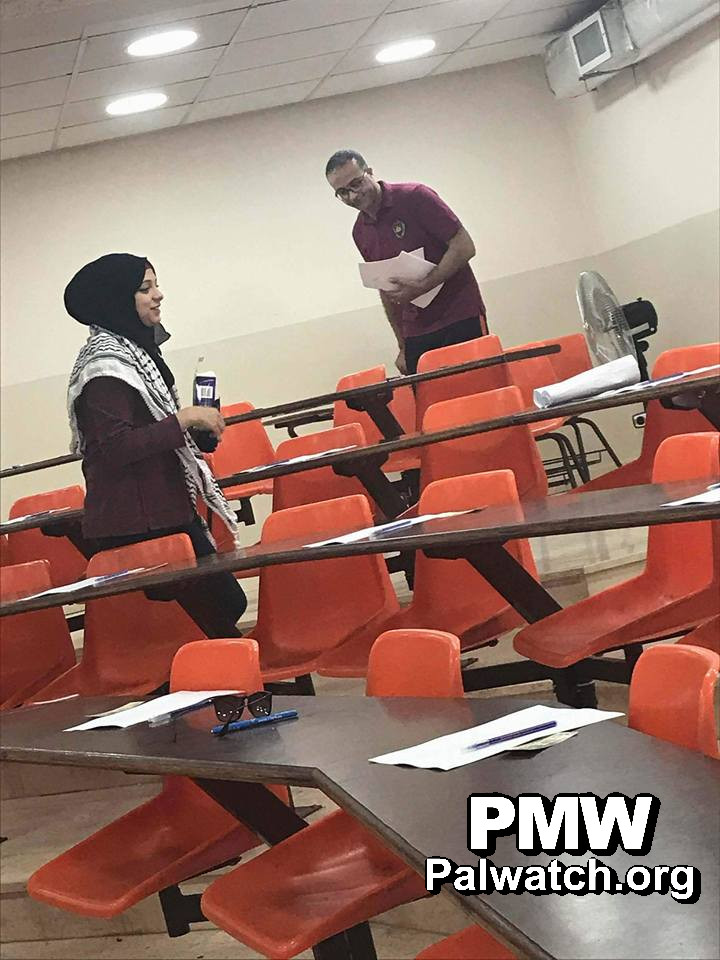 Posted text: "Pictures from the distribution of greetings and pens to students today [May 30, 2018] at several of the examination halls
Good luck to our precious students
#[Fatah_]Shabiba_Student_Movement"
The "good luck" greetings from Fatah's Shabiba also took on a religious nature, carrying a quote from the Koran:
" '[Moses] said, "My Lord, expand for me my breast [with assurance]; and ease for me my task; and untie the knot from my tongue; that they may understand my speech' " [Koran, Sura 20:25-28, Sahih International translation]
In the name of Allah the Savior, nothing is easy other than that which You have eased, O Most Merciful"
[Facebook page of the Fatah Shabiba Student Movement at Birzeit University,
 May 30, 2018]
In the upper-right corner of the card is the logo of the Fatah Shabiba Student Movement at Birzeit University, which features a fist in the shape of the P.A. map of "Palestine" that presents all of Israel as "Palestine" together with the P.A. areas, and over it the text: "We will return."
Full report can be read here.